Bayla
U-CD Explorer B'Elana v. Eagleheart CGC, HCT-s, O-ECC, EJC, EAC, O-TG-E,
O-WV-E, RS-O, GS-E, JS-O, TDIA, THD, CD, RE, AX, AXJ, NF, NJP
Bayla was my once-in-a-lifetime dog! It was an honor to be her person.
Someday I hope to be worthy of what this very special dog of great character shared with and taught me.
Bayla ~ 11/14/2000 - 4/2/2010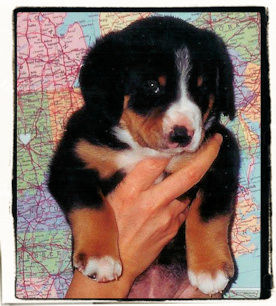 Bayla was my once-in-a-lifetime, true heart dog! We were soulmates; from the moment we met there was just a deep, special connection. I remember getting pictures of the litter and being smitten with every puppy, except one- the pudgy, dumpy, dumb looking puppy. I told the breeders, I like any of them except that one… can you guess? Yes, that was my Bayla. I am so thankful that I developed a great relationship with her breeders and that they knew what I wanted because you can't always judge a book by its cover. Bayla actually thinned out and got much cuter at around 4-5 weeks old.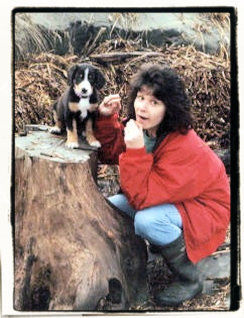 At the time, we had all girls and thought we should get a boy. We chose the name Data and told the breeders that our priorities were #1 temperament, #2 drive and attitude, #3 health and structure, then lastly markings. They said our right puppy from that litter happened to be a girl. So we trusted them and went with it..
That was a smart decision because it was meant to be. Bayla and I enjoyed an amazing journey together! She taught me, motivated me and inspired me to dream bigger. She absolutely changed me and my life for the better. I learned so much from her about courage, spirit, zest for life… about love! She was a miracle dog and Entle. She solidified my love for this breed.
Registered Name:
U-CD Explorer B'Elana v. Eagleheart CGC, HCT-s, O-ECC, EJC, EAC, O-TG-E, O-WV-E,
RS-O, GS-E, JS-O, TDIA, THD, CD, RE, AX, AXJ, NF, NJP
Bayla's Knicknames:
Bay, Baybay, BoBo, Lala, CrazyGirl
Slideshow Music: "The Climb" by Miley Cyrus
Bayla Agility-

You Tube Video Links

Bayla was 7 years old when Entles were allowed to compete in AKC Agility.
We have many more of her AKC trial runs taped than her NADAC ones.
Bayla loved NADAC's wide open courses and she excelled at the games!
AKC Novice JWW ; Novice JWW
AKC Open Std
AKC Excellent A Std ; AX Title ; Excellent B JWW

* Credit: Great Dane Photos

Bayla is everything I always wanted in a dog… talented, athletic and driven. She did everything at full tilt her whole life! She was intense, wickedly smart, very busy and always up for any adventure. Bayla loved all people, but especially kids- probably because they were so trainable. They would usually throw balls and share food with her making them A-OK by her! Bayla loved food- she was an incredible chow hound that stunned and amazed people by how fast she could eat. She was also a crazed tugging agility nut.

Her biggest fault really… was her recklessness. She could be so intense, wild and have no regard for her own body! I had to run her in agility without a collar because she would cut jumps tight and get her collar caught on the jump cups. On quite a few occasions she'd just drag the jump uprights along and keep running the course. She banked off the insides of tunnels, sometimes going end over end yet she'd get up and keep running. Once she fell off a dogwalk, bounced off the tunnel underneath it, landed, got up and… Yep, kept running. She was so intense! It was always a thrill and adrenaline rush running agility with her. People warned me to be careful what I asked for back in '98 when I said "my next dog will have drive, focus and love agility."

Bayla had an exceptional spirit! At four years old she was diagnosed with Idiopathic Immune Mediated Thrombocytopenia (ITP).
She survived and thrived in spite of it. Immune diseases can affect all dog breeds or mixes of any age or sex. The causes are largely unknown, though on an individual basis can sometimes be found. We were not able to find a cause, but we did move forward and treat it successfully! Bay died in 2010. She contracted Lyme's Nephritis and Anaplasmosis; the combination of those two tick borne diseases over loaded and overwhelmed her system. She put up a tough fight but the complications were too much for her body.

Bayla achieved 44 titles and many distinctions in the Entlebucher breed. I was always most proud and inspired by her versatility! She could go from intense agility dog to a semi controlled obedience routine then go to work on a therapy dog assignment, come home and cuddle on the couch with me watching TV…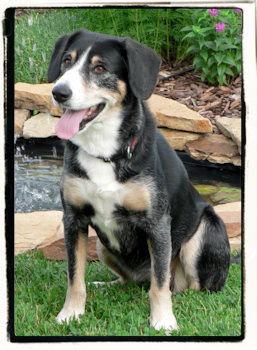 Bayla's Breed Accomplishments:

First to earn NADAC Novice, Open and Elite Versatility Awards
First to earn most NADAC titles inc., Outstanding and Superior Elite titles
First to earn NADAC 1000 point Lifetime Achievement Award
Ranked #1 Entlebucher in 3 NADAC classes, 3 yrs in a row
First Entle to earn a TDI Therapy dog title
First to earn the AKC Open Agility title
First to earn the AKC Therapy Dog title
First to earn an AKC CD after the moratorium*
First to earn AKC Rally Advanced and Excellent titles (qualifying in every rally run)
Tied for first to receive the prestigious NEMDA Guthrie award
Placed Second at the Midwest Agility Championships 16" Veteran's Division
Placed Third in the Team Event at the Midwest Agility Championships
Earned the Top Entlebucher Mountain Dog Medallion at 2009 AKC Agility Invitationals in Long Beach, CA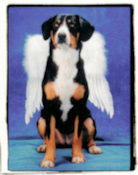 In memory and honor of Bayla and

all

the special dogs

who have graced our lives in profound ways...

Please take a moment to watch "

The Journey

";

a most beautiful video montage by Susan Garrett.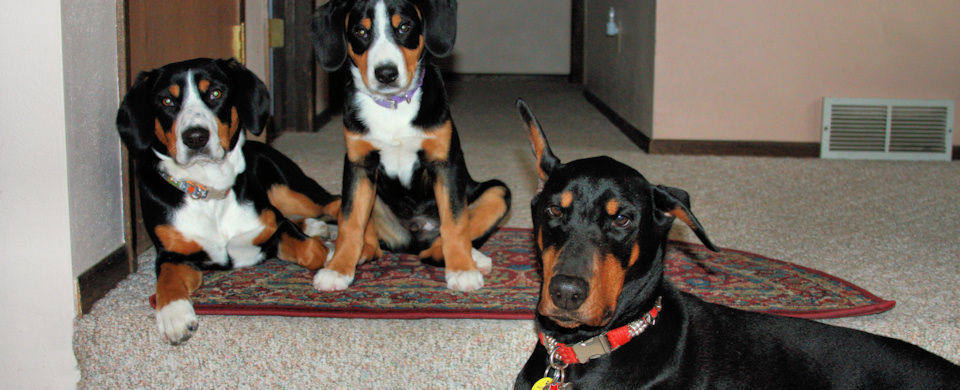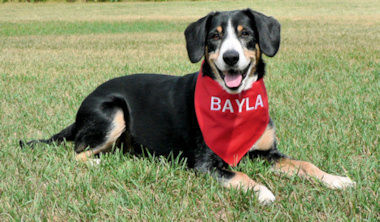 Dogs are not our whole life, but they make our lives whole - Roger Caras