Dax
MACH 2 Second Chance Diamond-Dax CGC, NGC, OAC, TN-N, EJC, WV-N
Dax was an extraordinary companion and a great ambassador for Doberman Pinschers and Rescue dogs. Many people say I rescued her, but in reality
she rescued me.
Dax ~ 10/1/1996 - 11/23/2009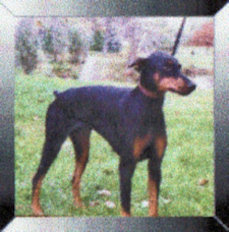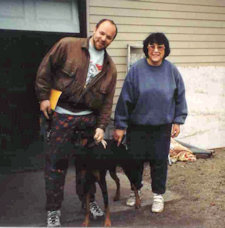 October '98 I lost my First Dobe to a tragic car accident. We were lost without our Dober companion and felt we needed to adopt another to help us heal. We were very big into Agility and knew that we wanted an active female with a good amount of drive, a good personality, and had to be a Rescue. We looked at several nice Dobes in WI, but nothing clicked. One day my wife was surfing the Internet and exclaimed, " I think I've found the Dober-girl we've been looking for, her name is "Diamond", she's at a rescue in Clinton Michigan." We decided to contact the Rescue Organization to ask questions and get more information.
We spent hours on the phone talking with Arda of Second Chance Doberman Rescue. She kindly and so patiently listened to our stories; all the pain of our recent loss, our hopes and dreams… She shared her experiences, cried and laughed with us and promised to help. Arda is one incredible lady! She is so knowledgeable about dobes. We were sure she had a good understanding of the kind of Dobe we were looking for and we had a good feeling about her honesty and open communication. We drove 8+ hours to MI with our first dog (Mutley- the English Setter), in the hopes of finding our newest family addition. When I met Diamond there was an instant connection and I knew, "She's the one." She really was a 'Diamond in the Ruff'... rough around the edges; very skinny (only 49 pounds), a little nervous, lacked confidence and definitely needed a job but I could see past her issues to her brilliance within waiting to break free. She was only 2 years old, extremely lovable, very pretty, petite, athletic and with a lot of potential!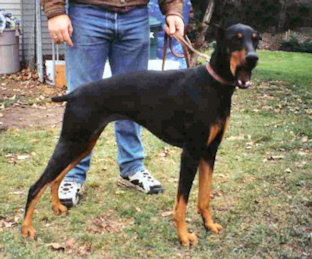 We watched Diamond interact with the other dobes at the rescue. She showed an amazing natural communication- being more gentle and giving space to those that needed it, while rough housing and body slamming others. She was a little shy and nervous meeting new people and in new situations though. Diamond was a "talker"
and a whiner! At Second Chance they nicknamed her, 'The Mouth' since she was always letting them know her opinions. Diamond had 2 previous owners before us.
She had been hit by a car at 6 months old and suffered a broken pelvis and a broken jaw. Then she was dumped at a vet clinic when her owners decided they "just didn't want her anymore." Another lady adopted Diamond from the vet clinic. She tried to make it work but said Diamond was a digger, a runner (ie; run away), nervous, high strung, and would not listen… that lady said Diamond was way more than she could handle with the kind of issues she had that required so much time and energy to fix.
This time Diamond was surrendered to Arda at Second Chance Dobes. Arda knew right away that she was a great candidate for us. Arda told us, "this one is special; with love, trust and patience, some obedience work, exercise and a job- Diamond could be an ideal companion and your agility star." We packed up Mutley and drove to Michigan excited to meet her. After spending a Saturday afternoon at Arda's, we adopted Diamond and drove back to WI to start our new life together. We were less than a mile away when she started screaming and whining... we wondered what did we get ourselves into? She just needed one of us to sit in the back with her, the whole ride home to reassure her that it was going to be OK.
Registered Name:
MACH 2 Second Chance Diamond-Dax CGC, NGC, OAC,
TN-N, WV-N, EJC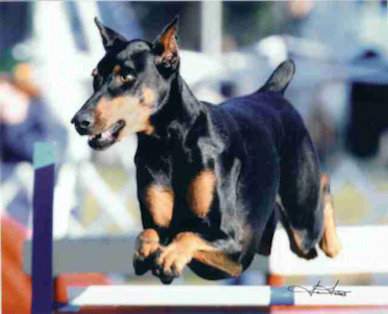 Dax's Knicknames:
Wiggles, Wiggy C, Pigs, Daxwell
Dax's Rescue Organization-

Second Chance Dobes, Clinton MI

Slideshow Music: "You Are So Beautiful" by Joe Cocker

She needed a new name for her new life. Being Star Trek fans, we chose "Dax" (a strong female character ST: Deep Space Nine). When we applied for her ILP#, we wanted to honor the rescue that united us, so she was AKC Registered as: "Second Chance Diamond-Dax."

* Photo courtesy: Tien Tran

Dax has always been smart, willing to learn, and eager to please. In the beginning she was very insecure, skittish and nervous in new situations, except with other dogs. We were patient and allowed her to investigate new things and people at her own pace while rewarding any/all signs of confidence. We never pushed Dax to do things she was uncomfortable with. Slowly her world expanded.
At first it was quite sad how she would shut down and get so visibly agitated. We did not coddle her, just quickly diverted her attention or moved to a place where she could be more comfortable and calm down. We think it helped Dax, that we had another confident dog to keep her company while we were at work. They became best buddies right away. Dax watched Mutley for behavior cues and reassurance in new situations.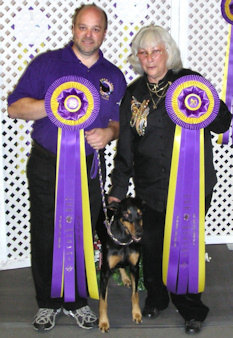 Progress was slow but steady... we started to notice that her confidence had grown, she was getting more relaxed and able to handle the crowds, noise and chaos of dog shows. So we took the next step; I started agility training with her making sure she felt loved, secure and had FUN in class. Dax was naturally gifted at jumping and loved running. She had a really tough time with the A-Frame and dogwalk. She was terrified of the teeter and closed chute. So we would try a little, then skip it and try again another day or another time. Over time and with more agility classes, we noticed her confidence increase and her sense of adventure grew. It was an amazing, rewarding journey to see her transformation. She blossomed from that skinny, nervous waif into a strong, confident, adventurous and easy-going Dobe.
Dax started competing in AKC Agility trials 1 year after we adopted her. She turned many heads at trials for her grace and elegant jumping style! It was very special for me that Dax earned her Excellent Standard title (AX) at Dobe Nationals. It was our first time going to a Breed National and we were excited to watch the second annual DPCA Agility Top 20 event and competition. The DPCA keeps track of scores and ranks all Dobes competing in AKC agility throughout the country. After we learned the requirements to get into the Top 20, I said, "Dax and I can do it. We are going to make the Top 20 and be in that event some day!" We trained, practiced, competed and set our sights on that goal. Team Dax/Pat made the Top 20 for 3 years, with Dax's highest ranking being #8 (2003). At the 2004 Dobe Nationals, Dax was awarded the first ever Judith Felton Memorial Award. I was so proud that Arda could be there to share in that magical memory and once-in-a-lifetime experience!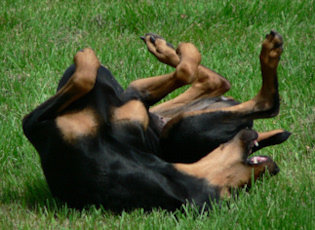 People say we did a great thing rescuing and making her part of our family. But the truth is..., Dax rescued us! We can't imagine how empty and different life would have been without her. We will always be grateful for the pleasure of having Dax a part of our lives. We were proud of how far she came. She was amazing! Dax proves that rescued and re-homed dogs can make their mark of excellence on the world. Dax didn't have the luxury of receiving the best "start" in life, yet she was resilient, had character and a lot of heart!
Her nickname became "Wiggles"... she had so much joy for life, when she was happy her whole body wiggled! Dax loved being outside and enjoyed sprawling out, sunning herself or break dancing in the grass. She took her job as security guard very seriously. Dax was vigilant to patrol our home keeping us safe from intruders as well as evil bunnies, squirrels and chipmunks (chippies).
Dax's Breed Accomplishments:

First Rescue Doberman to compete in DPCA Agility Top 20
DPCA Agility Top 20 competitor in 2003, 2004, 2006
First recipient of the Judith Felton Memorial Award
Achieved rank of #8 Dobe in US- AKC Agility 2003
Acknowledgement of longevity Certificate by DPCA
In memory and honor of Dax

and

all

the special dogs

who have graced our lives in profound ways...

Please take a moment to watch "

The Journey

";

a most beautiful video montage by Susan Garrett.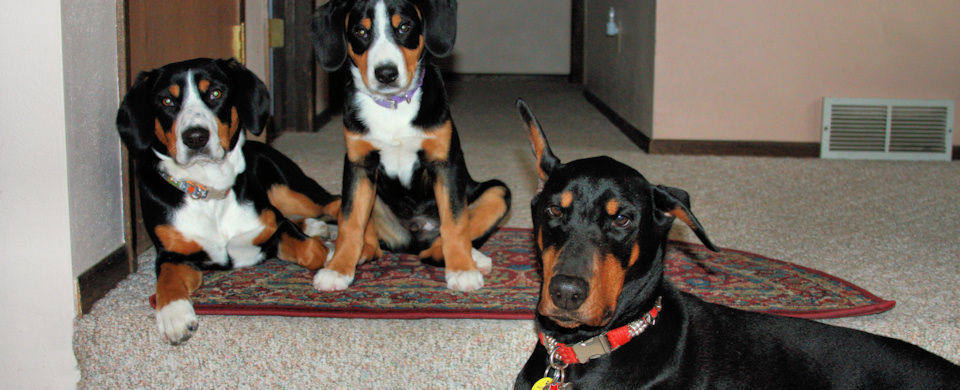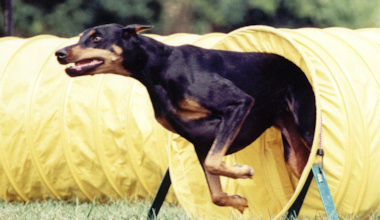 Dogs are not our whole life, but they make our lives whole - Roger Caras