Herding with Entlebuchers
Entlebuchers historic function was a Cattle Drover and all around farmdog.
Herding
Entlebuchers and Herding
The Entlebucher Mountain Dog was officially recognized by the American Kennel Club (AKC) in the Herding Group: January 1, 2011.
The Entlebucher along with it's cousin the Appenzeller, were originally bred to herd cattle and they both continue to have a stronger ingrained herding instinct. Cattle are bigger, tougher and more stubborn stock which requires an intelligent, strong and sometimes physical approach to control. Entles are drovers so their herding style is like a Corgi or Australian Cattle Dog. Drovers generally use their voice and mouth more than heelers (like Border Collies or Kelpies) which are famous for their "eye".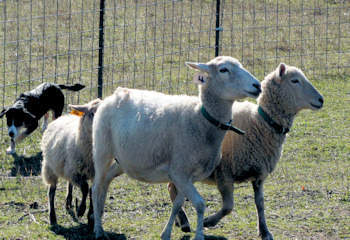 One of my first adventures with Bayla was a sheep herding weekend seminar and AHBA (American Herding Breed Association) test in southern Illinois. It was an incredible experience! What a special thrill to see her instincts kick in and observe the way she handled herself. Bayla received high praise for her great ability, power, presence and natural talent.

That weekend, Bayla easily earned her HCT-s title. HCT is: Herding Capability Tested, which is the American Herding Breed Association's instinct test. The smaller letter designation after the hyphen is the type of stock the dog was tested on; s = sheep, c = cattle and d = ducks. This was the first time Bay had ever seen sheep. Though encouraged, we did not pursue herding at that time.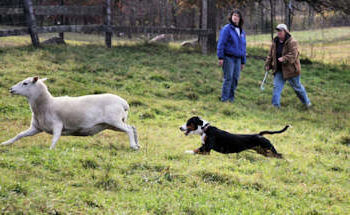 I have taken Kai out for one herding experience so far. In a short time, she did really well and seemed to spark to it. I guess I could be called a recreational (and fair weather) herder. I like to get out a few times a year and justify motivating myself to do a little herding by reminding myself that our dogs are willing to do and try anything I ask..., the least I can do is be willing to "go along for the ride" doing an activity they may be naturally good at. Ironically, not all herding dogs have talent or solid herding ability. I like to have a dog evaluated just to see how true they may be to their heritage function. This photo of Kai (far right) during her first herding experience was used in the AKC Gazette Entlebucher feature, Jan. 2011.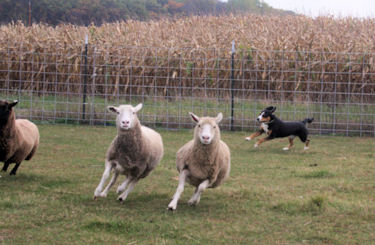 Data has been herding a few times. I did not find (or make) the time until he was over 2 years old. Data took a little more patience and encouragement in his first experience. It is important to evaluate a herding dog's pure instincts while they are younger - before they are influenced by working / training in other areas. Initially on his first exposure, Data kept looking to me, to see what I wanted or if it was really OK to chase the sheep. I wonder if he thought the experience was some bizarre "recall" proofing exercise. It took a little while but he finally decided it was OK to chase the sheep then he was able to get a feel for their movement off his body and actions. On his second exposure Data was much more comfortable and confident. This photo was taken when he earned his Herding Instinct Certificate at Lanark Farms.
Herding fascinates me! I have read a lot about it and spectated at quite a few herding trials... yet I have a hard time bringing myself to DO herding. Sheep freak me out. I was sandwiched between two and they "walked" me a couple feet (my feet did not touch the ground). I do not like the feeling of being out of control. Herding offers so many variables and just too much going on for me, plus it is counter intuitive to agility handling in many ways. I would much rather watch or take herding photos. Then I can be mesmerized by the beauty of it and marvel at the dog/handler's talent and skills, all from a safe distance. I love it when we have herding instinct tests at our Entlebucher Specialties. It is very eye opening and awe inspiring to watch different Entle styles. Some entles are more vocal, some use more physicality, and others tend to be thoughtful. Jaylah was exposed to sheep for the first time during our 2018 National Specialty activities. She did very well and of our dogs, she has the most pure instinct of any. Jaylah has always shown an overt desire to circle and control movement so I was confident she would spark to it. At our 2016 Specialty I worked Data on ducks for the experience. I was a lot less stressed and enjoyed being inside the pen much more.

Herding Links
AKC Herding Getting started in herding
AKC Herding Group- Link to Herding Group of American Kennel Club
AHBA- American Herding Breed Association
Working Dogs Link to article about styles of herding by Ann Garner
Herding on the Web- Website for herding resources on the internet
---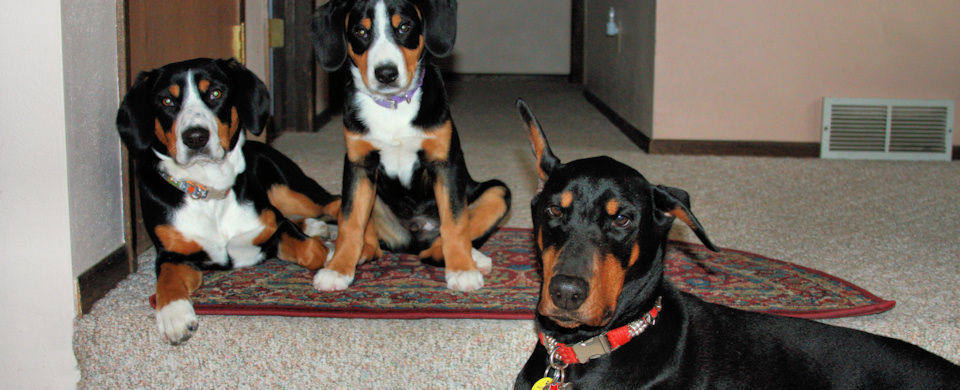 Dogs are not our whole life, but they make our lives whole - Roger Caras