Our Dogs
We have had the great fortune of sharing our lives with some amazing creatures! They have taught us so much about life... living in the moment, forgiveness, joy, fun and love!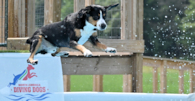 Recent Events
Team Kai earned their Master Century Standard (MXC) title June 4, 2017 in Green Bay under judge Greg Beck.

Kai/Patrick took 3rd place overall in the 16" class at the 2016 AKC Agility Invitationals in Orlando Florida! Kai is now the highest placing Entlebucher in a National event, earning a place in the AKC record books!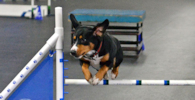 What's New
Data earned his Grand Champion (GCH) title at the Kenosha Kennel Club All-Breed Conformation show September 10, 2017! He also earned another Herding Group 3 Placement along the way at the Elgin Kennel Club August 26, 2017 under Judge Jimmy Moses.

Data is still the only Entlebucher to now hold higher level dual Championship titles (MACH2 & CCH)! A truly amazing dog!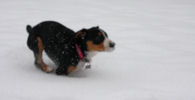 Current News
Jaylah turned a 4 point conformation Best of Winners into a coveted 5 point major going Best Opposite Sex (over a Special) August 27, 2017 at the Elgin Kennel Club show under Judge Jimmy Moses!

Jaylah was born September 26, 2016 to Rodevachu Kennel. We searched 2+ yrs with a goal of importing a quality bred female with the Entlebucher traits & characteristics we feel most strongly about. We hope Jaylah will boldly go... to carry forward our next generation of ExcelEnts!
Canine Kids
We are Star Trek FANatics! After our first dog Mutley, we decided to stick with a Star Trek name theme. Currently our family consists of Kai; 7 yr. old Entlebucher Mountain Dog, Data; 6 yr. old Entlebucher Mountain Dog, and our newest addition Jaylah; imported Entlebucher Mountain Dog.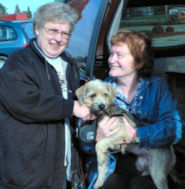 Kira (pictured at right, 2005 with Mom & rescue Angel Marti) was my mom's faithful companion . Kira made mom so happy~ they were inseparable. When my mom passed away March 2016, we couldn't imagine Kira going to live with anyone else... she was family too. We decided Kira should live the rest of her life with us. We consider ourselves the best fit in temperament/lifestyle for Working and Herding breeds. We're not "terrier" people, but we believe in breeds for everyone & respect terrier lovers. It was not the easiest transition but with patience and leadership our family reintegrated successfully.

When we welcomed baby Jaylah to our family, Kira's purpose became crystal clear. Kira was the perfect size, tough but fair, a great babysitter, playmate, and friend for the energetic, busy puppy. It's funny how things have a way of working out if you stay open to the possibilities. Sadly, Kira only lived another 14 months but it was the right thing to honor mom and for Kira (she suffered a loss too). Mom and Kira had such a close bond that we know they are together again and happy!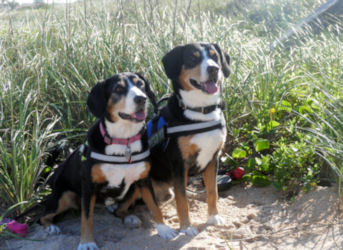 K9 Page Links
Our Current Dogs
Kai
-pictured left
Data
-pictured right
Jaylah
-pictured at top in middle
Dogs of our Past
Bayla
Dax
Ryka
Just A Dog
From time to time, people tell me, "lighten up, it's just a dog," or, "that's a lot of money for just a dog". They don't understand the distance traveled, time spent, or costs involved for "just a dog.

Some of my proudest moments have come about with "just a dog. Many hours have passed and my only company was "just a dog," but I did not once feel slighted. Some of my saddest moments have been brought about by "just a dog," and in those days of darkness, the gentle touch of "just a dog" gave me comfort and reason to overcome the day.

If you, too, think it's "just a dog," then you will probably understand phrases like; "just a friend," "just a sunrise," or "just a promise".

"Just a dog" brings into my life the very essence of friendship, trust, and pure unbridled joy. "Just a dog" brings out the compassion and patience that make me a better person. Because of "just a dog", I will rise early, take long walks and look longingly to the future. So for me and folks like me, it's not "just a dog" but an embodiment of all the hopes and dreams of the future, the fond memories of the past, and the pure joy of the moment.

"Just a dog" brings out what's good in me and diverts my thoughts away from myself and the worries of the day. I hope that someday they can understand that it's not "just a dog", but that which gives me humanity and keeps me from being "just a man or woman". So the next time you hear the phrase "just a dog" just smile... because they "just don't understand".
Author: Richard Biby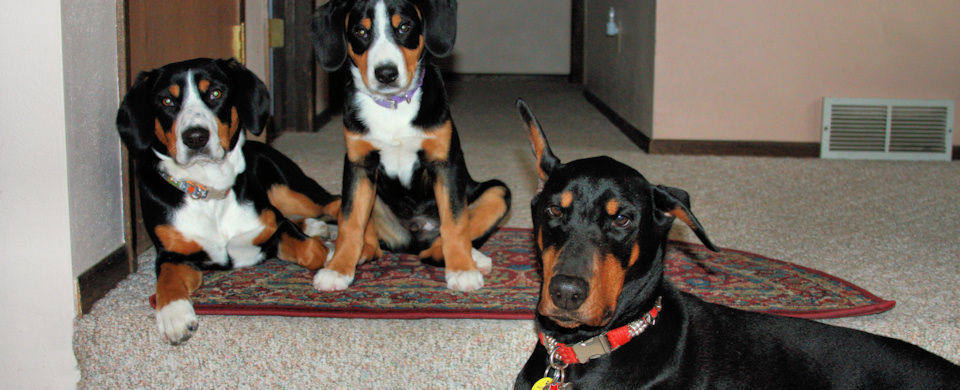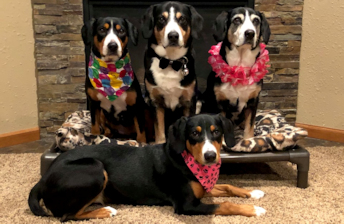 Dogs are not our whole life, but they make our lives whole - Roger Caras