Ryka
Montwoods Strega v. Arista CGC, MX, MXJ, RN, CD
Ryka is a great ambassador for Doberman Pinschers and shows people the loving and loyal side of the breed.
Ryka ~ 7/14/2005 - 8/17/2015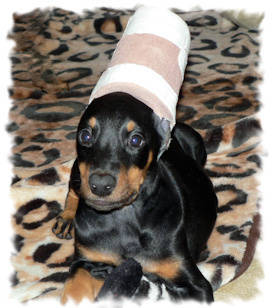 Ryka was born in California, and often reminds us that she does not like Wisconsin winters and wishes to vacation those months out west or south! Ryka was from a litter of 10 puppies! I worked with her breeder and told him what attributes I hoped for in my new puppy. He had 2 girls picked out for me to choose from. They were both very similar in structure. When I asked him to tell me more about the differences in their temperaments; he said the one was a little more stubborn. ...Hmmm, 'determined' (I thought), that would be good in an agility dog... I want the determined girl, so Ryka it was! It did not take long for us to discover that stubborn and determined are not the same. Our joke became; when a breeder of 30 years tells you stubborn, they actually mean stubborn. Though Ryka definitely has her stubborn streaks, she knows how to make us smile every day.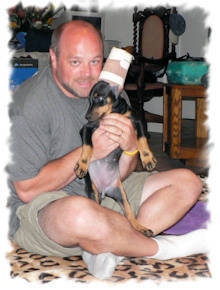 Ryka is a very laid back, easy going girl when at home. She's an extremely social dobe that see's the good in every friend she meets. Ryka easily aced her TDI (Therapy Dogs International) test to become a certified therapy dog. She is a great traveler and loves meeting new people and new dogs. Ryka can be a little "nosey" and we always tell her that her nose is going to get her in trouble someday.
Ryka can really come alive in the agility ring! She loves to tug and gets very excited when her special agility toy comes out. She likes standard better than jumpers and gets very verbal when her daddy makes a mistake. It's like she's letting the crowd know, "that wasn't my fault." As a younger, wilder dobe, Ryka was very nippy when she got into drive. She has torn through or ripped holes in clothing and nipped me in the butt many times. We have worked at it and now it's down to the occasional cheek nip.
Registered Name:
Montwoods Strega v. Arista CGC, MX, MXJ, RN, CD
Ryka's Knicknames:
Pubas, Ryk-Ryk, Dobie-girl, Destruct-Dobe
Ryka's Breeders- Montwood Dobermans; Vic & Angie Monteleon / Scott & Pat Lacour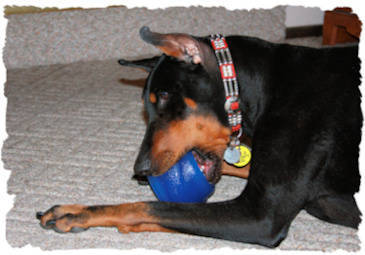 Ryka enjoys playing with her Entle siblings, but most times she is the one being teased, ganged up on and herded. She has extreme tolerance for having her nose or ankles nipped; she just enjoys being part of the fun and games. Ryka loves to chase and run! For me, there is nothing more beautiful and awe-inspiring than a doberman in a flat out run! I have always admired Dobes. There's just something about them- majestic, sleek, elegant, fascinating... amazing creatures!
Ryka loves tennis balls and chewing... sticks, bones, toys, etc. She earned the knickname "Destruct-Dobe" because she likes to destroy and is very good at it! She was a terror as a puppy. We had to keep a constant watch on her to make sure she had appropriate items in her mouth. Even then, she would sometimes be sneaky and chew a hole in something inappropriate that was somehwhat near or next to an appropriate item. In our attempts to outsmart her we found that she really enjoys stuffable food and puzzle toys. What a great invention, the right food stuffed or puzzle toys will keep her interested and busy for hours! Needless to say, she has the most beautiful bright, clean (and healthy) teeth. Another joke of ours is that the Dobie can't hold her licker/liquor since she is very free with affection and kisses once she accepts you as her friend.
Ryka is not your first choice partner for playing fetch. She thinks the game is much more fun as chase, run and play keep away! But she loves food and if she knows you have something to trade for, she will gladly retrieve and bring the toy back to you. Ryka is a really smart dog that pushes you to be on top of your game if you want or expect her to be at the top of her game. If there were a title for snuggling/cuddling, surely Ryka would be a multiple Grand Champion! She is very intuitive, sensitive and the typical velcro® Dobie.
• Ryka earned her AKC Master Excellent Jumper title (MXJ) in August, 2008.
• Ryka earned her AKC Master Agility Excellent title (MX) in June 2009.
• In Ryka's one and only Conformation show she earned 2nd place in a competitive field of Dobes.
• Ryka took First Place at the Midwest Agility Championships 24" Division.
• Ryka Placed Third in the Team Event at the Midwest Agility Championships.
• Ryka earned her AKC Novice Obedience Companion Dog title (CD), February 4, 2012!
Sadly, Ryka died August 17, 2015. She is missed greatly as she was a gentle, calming presence in our home! The Grand Puba or Pubis, was the most care-free, laid back and lovable/cuddly Dobe! Ryka could be a big clown and goofball with a bit of a stubborn streak. She did not like rain, snow or really cold weather. She loved her tuggy toy, bully sticks and well any kind of food and tennis balls. We'll see you again someday Pubie!
MY HEART BELONGS TO A DOBERMAN!

I share my life with a Doberman,
A protector and a friend-
Intelligent and daring,
Devoted to the end.

So sleek and quick,
On constant watch,
A dog that earns your praise
Yet with a heart of purest gold,
And gentle, loving ways.

So noble and reliable,
A winner from the start.
When I first saw a Doberman,
I quickly lost my heart!

* Photo courtesy: Great Dane Photos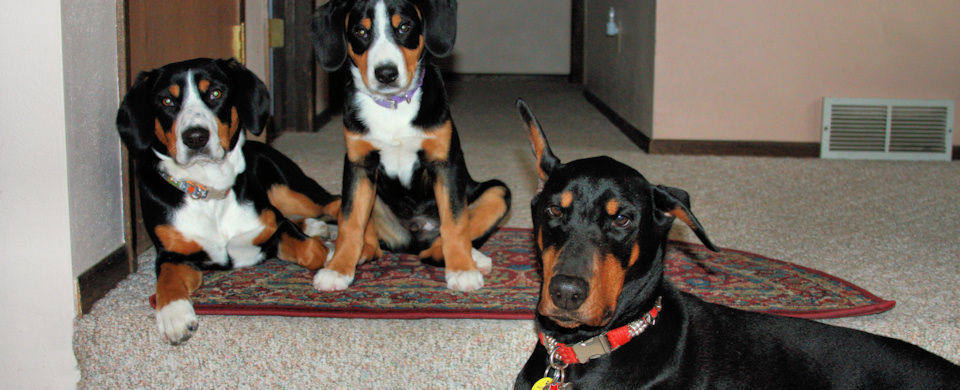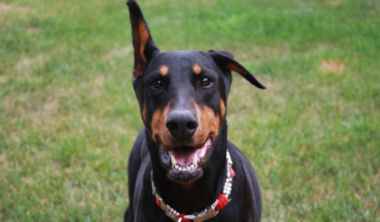 Dogs are not our whole life, but they make our lives whole - Roger Caras