Tracking and Scent Work
Instinctive activities showcase natural abilities
Tracking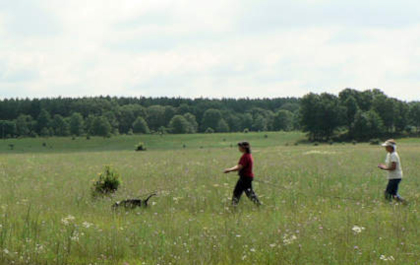 I always wanted to try tracking with Bayla but never seized the opportunity. When we adopted Kai, I decided that tracking would be the perfect sport for the two of us to learn together... it would be new for both of us and a discovery we could call our own. Tracking really helped me bond with her and learn more about Kai as an individual.

Kai started taking lessons with Lois Ballard, Spring 2010. What a great way to appreciate fresh air, beautiful scenery and time spent outdoors with your canine friend. Along the track we sometimes find unplotted treasures, sometimes unexpected surprises too! We always enjoy ourselves and marvel at the beauty of mother nature!

To develop as a tracking team, the handler needs to learn how to give up control, read and trust their dog. After all, the dog really has the superior nose. In Tracking the dog follows the specific scent of the path a human walked. There are many variables to scent; the kind of vegetation and the way it holds scent, wind and weather conditions, any distinctive scent influencers- perfume, strong body odor, a medical condition like diabetes, hills and obstructions within the terrain, how long the scent path has aged (or how long it has been since the person walked the original path), and any other influences like deer, bunnies and other wildlife crossing the scent path or critters living in area. We continue to learn and make progress growing in this sport. It is very humbling to behold the power of your dog's nose. Their sense of smell is astronomically greater than ours! Check out this article: The Canine Sense of Smell.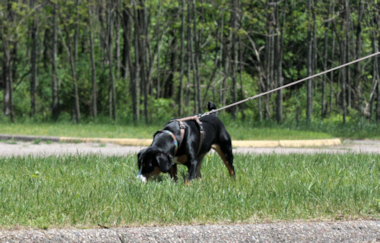 Data began tracking, spring of 2013. Jaylah started in June 2017. We live only 25 minutes from Hartman Creek State Park where I am lucky to train with a great group, on a weekly basis. To make progress in any dog sport you need to train/practice more than once a week. As a city dweller, finding adequate land/fields to track in can be tough and time consuming. Our local business park has a wonderful area but as more businesses fill the park, there's less usable space. It can be a challenge finding an area to lay a track, letting it age and then being able to get back to run that track. But there is something magical about tracking in the great outdoors! Even for me with a quirky bug phobia, especially spiders, large ant colonies, and ticks. Thankfully Wisconsin does not have a large amount of poisonous or dangerous threats like Southern states.
My tracking adventures with each individual dog has taught me valuable lessons about the power of observation, the nuances of scent and the magnificance of our relationships. Every adventure has inspired and left me in awe at the wonder of our dog's unique abilities. It's incredible to me that we can cross interspecies boundaries to communicate and work together for such fantastic results.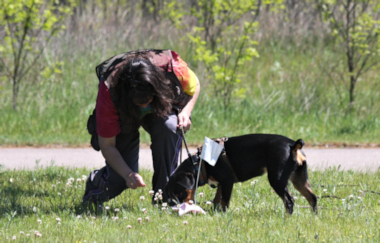 The way I approach it, tracking with my canine partner has two distinct training behaviors to teach: value for the articles and value for using their nose to follow a specific scent trail. I like to break it down to teach and reward the skills separately. I like to play a game in steps. First I drop 6-7 articles on the floor in a small room. I let the dog into the room, when they come across an article and investigate I click & treat with good stuff like chicken, cheese or steak. Next I up the ante using a bigger room with 5-6 articles and once they are driving to the articles I wait for a behavior like a sit or a down at the article before I click & reward. By playing this simple article game away from the tracking field it instills value for the articles. Once we track and they comes across an article in the field, I usually get the same behavior that was rehearsed and rewarded.
Two Historic Entlebucher Breed Firsts: Tracking Dog & Versatile Companion Dog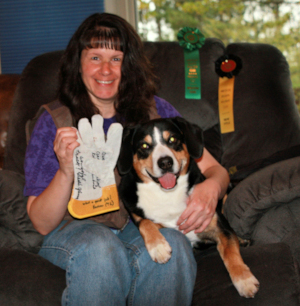 Data earned the 1st Entlebucher Mountain Dog AKC Tracking Dog (TD) title at Hartman Creek State Park, under judges Inge Suchanek & Eibhlin Glennon May 10, 2017!

Our test track was 450 yards, with 4 turns, and aged 40 minutes. Data totally rocked that test! It took him 6 minutes to complete our track. Data nailed 3 out of the 4 turns with 100% accuracy! He surprised me by working his track so fast that I felt like I was running and could not keep up. What an amazing feeling when we got to the end & Data found that glove. With true Entle style, he tossed it in the air then caught it before proudly retrieving it to my hand. The judges gave us high praise!

The motto for tracking is: train your dog, trust your dog. Earning this TD title with my dude has been one of the highlights of all my dog sport adventures. I have learned so much throughout this journey... and above all, learned to take observation skills to a new level and gained a new awareness and appreciation for dogs!
Data already had Obedience and Agility titles so his TD completed the trifecta to earn the distinction of being the 1st Entlebucher AKC Versatile Companion Dog (VCD1) on the record books! The VCD Program is designed to showcase dogs with tremendous talent in many areas. VCD teams are awarded for achieving titles in Obedience, Agility, and Tracking. Since I started in dog sports back in 1997, it has been a dream and goal of mine to join the prestigious ranks of special teams I've admired with the VCD designaton. Read more about the AKC Versatile Companion Dogs.
Thank you Ann MacKay for these and all the wonderful tracking photos!
K9 Nosework / Scent Work
I joke that I'm a fair weather sport enthusiast. I'm probably a little heartier than some yet not as hard core as many others. When the weather is what I consider "iffy", I stay indoors. A fun, similar activity that can be done outdoors and indoors is K9 Nosework / Scent Work! If the weather is bad there are many scent work skills that can be practiced inside. Many of the exercises are useful to give our dogs enriching mental workouts (a great option for Wisconsin winters). We do play scent work type games as tricks and fun activities with our dogs; like hide and seek with toys or people and which cup is the treat under...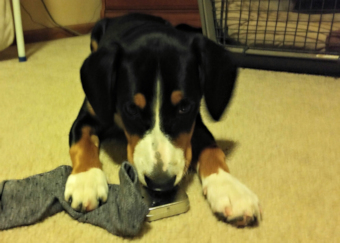 In 2017, I decided to explore Nosework as a new learning experience with then Entle puppy Jaylah. I had been interested in scent work for a long time. I even took Introductory seminars with both Bayla and Data, but never pursued it. I was not a fan or convinced in the effectiveness of the methods I saw being taught or demonstrated. Plus Data and I had put so much time and effort into tracking and I was not sure the two activities could coexist.

I heard glowing recommendations from friends, plus had a very positive experience with online classes from Fenzi Dog Sports Academy, so I took the plunge. Excited to learn another new sport with our young pup, I signed up for Nosework 101 with Stacy Barnett. We loved it and I knew immediately a new addiction could easily take hold!

Nosework is so much fun! I look forward to our practice sessions in anticipation of the scent puzzles we can work together! It is real thrill to see your dog actively working on scent and realize they understand a world we never will, with their superior sense of smell.... just amazes me! It is beautiful to see their change in behavior with a dramatic head snap if/when they pass the odor source. Sometimes I am mesmerized at the determination and drive they have to get to the odor source. Then when they are sure they found the odor source and give you that look, you feel the intimate communication of being a true team! I am enjoying it so much, I have now started Data doing scent work. As a bonus, scent work has helped me understand some of the subtleties in tracking and about scent in general on a whole new level! I look forward to continuing this Nosework/Scent Work adventure! Spring 2018 Jaylah and I entered our first AKC Scent Work trial. We had success and so much FUN! Fall 2018 Data entered in his first trial going 6/6 to earn both his Novice Container and Novice Interior titles. At the same trial Jaylah finished her overall Novice Scent Work title and she earned her Advanced Interior title. Scent Work is inexpensive to train and enjoy but it is very expensive to trial, especially with multiple dogs. I have to use strategy, planning, discretion and common sense when deciding how often and which classes or trials to enter.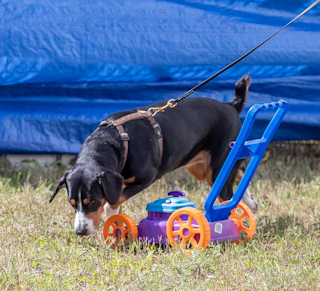 Juggling sports and hitting important milestones or accomplishing goals can be a real challenge. Over the years I have progressed in the "dog sport addiction". I remember going to agility classes with Mutley in the 90's saying how fun it was but we would never compete... then I would not drive far distances to compete (I limited the driving to a couple hours)... then it was regional with overnight stays in hotels... then I picked up new sports... I look back now and laugh at how things have changed! Now I am crazy enough to do, try, drive, even fly to adventure almost anywhere if it involves our canine companions! Truthfully, the dog sports and getting involved with dogs as a hobby is a lifestyle choice. Happily it has taught me so much and enriched my life in ways I can't begin to put in words or explain. We have met interesting people and established friendships that have become a very important part of my support system and life.
Tracking and K9 Nosework Links
* Jaylah Photo Courtesy: Rob Duberstein
FAQ's about Tracking
- Link to the AKC website FAQ on tracking
Canine Training Academy
- Great website with insightful articles
AKC Scent Work
- Link to AKC's Scent Work titling program
NACSW
- National Association of Canine Scent Work
Scentsabilities Nosework
- Stacy Barnett's Excellent full of information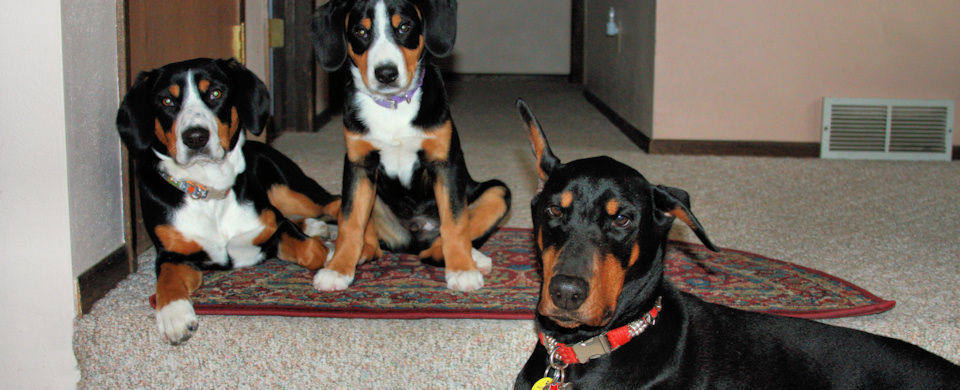 Dogs are not our whole life, but they make our lives whole - Roger Caras