Team MacKay
2 humans + 3 canines = 1 Family!
About Us
My husband Patrick and I have been married since 1991. Just as "traditional" families revolve around the activities of the children; our family largely revolves around our canine kid's activities. We enjoy dog training plus a variety of dog sports. We strive to continually grow in our understanding of canine behavior and enjoy the incredible relationships that are built by learning from, appreciating and loving these amazing creatures! We are also actively involved in rescue and re-homing efforts for Entles in need. Whenever possible we lend our assistance and are always willing to network and share ideas on training or relationship issues.
We are very fortunate to live in central Wisconsin, an area rich with dog friendly sports and abundant training resources! We spend a lot of time at Camp Bandy Pet Resort in Amherst Junction, WI. We do appreciate the wonderful scenery and opportunities for exploring and outdoor adventures all around us. Fortunately this keeps us all out of trouble by filling our days with activity!
We are also Star Trek Fans! Star Trek: Next Generation is our favorite, with Star Trek: Voyager coming in a close second. After our first dog, we decided to stick with a Star Trek theme in naming all our future canine kids. Female names are more of a challenge plus we keep awareness and are always cautious of the alien races and characters we name dogs after... just in case they emulate their namesake!
We have trained and/or competed in: traditional obedience, rally obedience, conformation, agility, herding, tracking, nose work, tricks, and therapy work. We aspire to breed Entlebucher Mountain Dogs with the goal of promoting and preserving the quality, health, correct temperament and versatility of this remarkable, unique herding breed from Switzerland.
Team MacKay Bio:
Patrick "Pat" MacKay Family Patriarch; Co-Captain

Works at Skyward, Inc. Patrick loved the Doberman Pinscher breed since he was a child and always knew he wanted to share his life with them. We have owned 3 Dobes and fostered many more. Pat's hobbies include being a movie buff, building and fixing things. He's quite the handyman- very good with home maintenance and enjoys the challenge of learning new skills and building. Pat earned the nickname Twinkle Toes for his incredible backwards running and flying front crosses while running agility courses. Patrick shares in the adult and mundane responsibilities of running the household.

Joyce MacKay Family Matriarch; Co-Captain

In 2010, I started my own business: Marketing Help!, LLC. I have a Marketing Degree and over 30 years experience working in media marketing, advertising and PR. I got out of the intense rat race and currently enjoy working flexible part-time at Lands' End in the Business Outfitters division. Photography is a hobby of mine. I love to read- usually dog, training, or marketing books and I have a wicked, dry sense of humor (inherited from my mom for sure). I share in the mundane and adult responsibilities of running our household.
Current K9 Kids
"Kai" MACH3 Superstar Kai v. Adhem CGC RA XF MXB2 MJB2 T2B
Entlebucher Mountain Dog
Our oldest; Birdy or Squeals. Kai is quirky, in a very endearing way! She is the most expressive, animated character. She does somersaults, has a killer vertical leap, plays with hula hoops and loves her daddy! Kai is totally food obsessed, insanely vocal (a barkaholic), and is the self appointed fun police in our house! Photo: Legacy Studios

"Data" BISS GCH CH MACH3 Imzadi Data v. Eagleheart CGC VCD2 BN GN RE MXF MJB2 MXB2 T2B SIN SCN TKA
Entlebucher Mountain Dog
Our middle child; Duders or Dude. Data is Mister Personality~ quite the charmer! Data believes the world revolves around him and he should be the center of all attention! He knows how to work a crowd. He can also be a ring leader and lil' trouble maker (with a capital "T"). Data is a momma's boy. He loves toys, playing tug and wants to be in on any action. Photo: Legacy Studios

"Jaylah" CH Antea z Rodevachu CGC BN AX AXJ NF SWN SIA TKI
Entlebucher Mountain Dog
Our youngest & newest addition; Jay, JJ or "Checkers"~ is full of attitude! Jaylah is curious, bold, outgoing and super friendly! She is a party ready to happen, loves adventure, and is tenacious at problem solving to get what she wants. Jaylah has a natural bob tail and was imported from the Czech Republic to hopefully help increase genetic diversity in the U.S.
In Loving Memory


"Bayla"
U-CD Explorer B'Elana v. Eagleheart
CGC, HCT-s, O-ECC, EJC, EAC,
O-TG-E, O-WV-E, RS-O, GS-E,
JS-O, TDIA, CD, RE, NF,
NJP, AX, AXJ, THD
"Dax"
MACH 2 Second Chance Diamond-Dax CGC,
NGC, OAC, TN-N, EJC, WV-N,
MXG, MJB2
"Ryka"
Montwood's Strega v. Arista
CGC, MX, MXJ, MJB, RN, CD


"Raven"
Our 1st Doberman Pinscher
"Mutley"
U-AG1 Mutley CGC, CD, OA, OAJ, TDI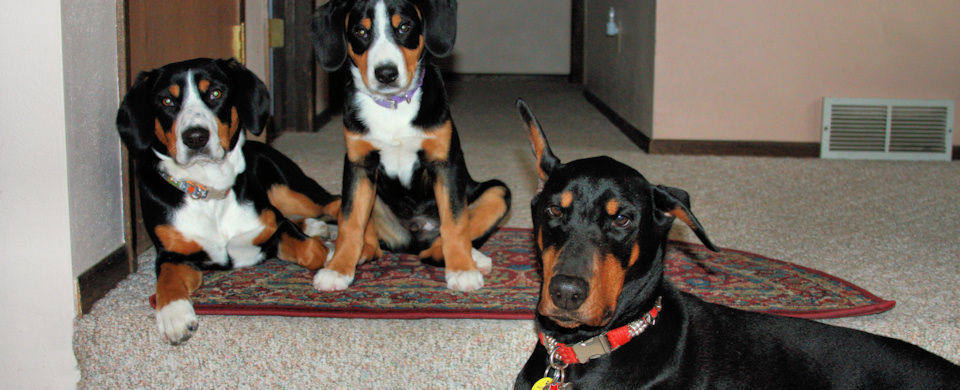 Dogs are not our whole life, but they make our lives whole - Roger Caras