Entlebucher Mountain Dogs
The smallest of the four Swiss Mountain Dog breeds. The other three in the family are: Greater Swiss, Bernese and Appenzeller. The Entlebucher is also known as the Entlebucher Sennenhund, Entlebuch Mountain Dog, Entlebucher Cattle Dog but the easiest of all... Swiss Cattle Dog! Photo courtesy of Rob Duberstein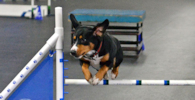 What's New
Data earned his Companion Dog Excellent (CDX) title at the Timber Ridge Obedience Club of Central Wisconsin trial on February 3, 2019 under judge Richard Wood. We are so proud of Data finishing up his CDX with a 3rd place as a bonus. His open obedience title also earned him the AKC's Versatile Companion Dog 2 (VCD2) for meeting all the next level requirements in agility, tracking and obedience! Data is the first & only Entlebucher with this distinction. Data really is an amazing dog!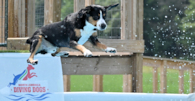 Recent Events
Team Kai placed 8th overall in the nation at the AKC Agility Invitationals in Orlando FL on December 16, 2018. Way to go Patrick & Birdie! They put together 5 clean, fast rounds (including their T2B warm-up) to accomplish being 8 out of 139 of the top agility dogs in the 16" height division! We are so proud!

Kai also has a cameo, pictured on page 120 of the new book: Entlebucher Mountain Dogs - What I Wish I Knew by Linda Liebrand. We are honored to have a photo we took of Kai shown in this important, accurate book. Highly recommend as a Must Read!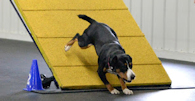 Current News
In our debut weekend back at agility after my knee surgery, Jaylah earned her AKC Agility Excellent Standard (AX) title. She really loves it & is coming along nicely! So proud of how far she has come at only 2 years old. She has been such an incredible addition to our family & we could not imagine life without her!
Entlebucher Mountain Dogs
In General

How do you say that? We hear it all the time, over and over...
There are 2 generally accepted pronunciations for the breed.
The more popular (and the way I say it):
Auditory Pronunciation.
When asked to repeat the name (3 or 4 times), I usually just say, "Swiss Cattle Dog" and that satisfies most people. I came across the breed in 1998 while researching my next dog. I answered questions on a website and the Entlebucher was a suggested match to consider. I read anything I could find and really liked what I read... but had a bad experience with an Entle breeder who misrepresented themselves. I caught the breeder in a lie and it was probably the best thing that could happen. It opened my eyes and gave me an extra healthy dose of caution. We had never purchased a puppy before. Up to that point, all our dogs were rescues.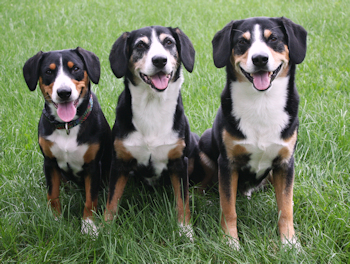 We wanted to meet as many Entles and their owners as possible. I found knowlegeable, friendly people connected with NEMDA- National Entlebucher Mountain Dog Association (AKC Parent Club). I flew to their Breed Specialty and was warmly welcomed! There is no substitute for first-hand learning through interaction and observation! Experiencing the range in body type, temperament and personality helped me understand what I was looking for and wanted in my future Entlebucher puppy. That is also when I knew~ this was the breed for me!
The Entlebucher dates back to 1889. All the Swiss breeds are named after the region they are from. The Entlebucher is from the Entlebuch region in the Canton of Lucerne, Switzerland. Alpine herdsman used them to herd cattle~ they are drovers by nature. The Entlebuch region is just 22 square miles, rural in nature with a focus on crops, fruit and cattle breeding. Swiss cattle are known to be large, unexcitable, docile and hardy milk cows. The cattle graze summers in the high meadows of the Alps while grazing their way back down for winters. The greatest risk for the cows is not predators, but navigating the rocky and uneven terrain of the Alps. Entlebuchers helped keep the cows safe on proper paths. That is why moderate and balanced structure is key to the heritage, function and essence of the Entlebucher Mountain Dog. Translated, Sennenhund means 'dog of the Alpine Herdsman'. They are not a 'hound dog' and do not exhibit traditional hunting instincts. The "hund" in Sennenhund refers to the German word for dog. There is an annual celebration in the region called the Entlebuch alpine cattle descent, which offers the opportunity to experience their authentic customs and traditions complete with a parade, festive attire, alpine horns, yodeling and of course wonderful food.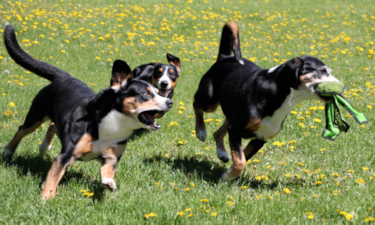 Entles are medium sized, short coated and always tri-colored. They are stocky, solid and robust; slightly longer than they are tall with an 8:10 ratio.In the U.S., Entlebucher tails can be docked or left natural. If the tail is full, it is preferable to have a white tip. An Entlebucher can also be born with a natural bob tail of any length, all are equally acceptable by the standard. U.S. Entles are often docked if there is a noticable kink or for purely aesthetics reasons. Some breeders like the docked look and some want to gain an advantage in conformation showing. Being a newer, rare breed Entles born with curly, high set, or thin tails don't stand a chance succeeding in the show ring against docked Entles. How the tail looks and is held can make or break the dog's silhouette which is a key factor in a judge's impressions and subjective opinion interpreting our standard.

Some people are very passionate about their Entle tail preference. Natural tails have gained in favor and popularity due in part to the European docking ban. Personally we like the docked look but have never owned an Entle with a docked tail. Our insight for this breed is that a tail (or lack of one) does not "make" the dog... other breed attributes are much more important! That said, we've observed first-hand, a weird bias against bob tails in the Entlebucher. Bayla had a 3/4th length bob tail and we experienced prejudice about it her whole life! Bayla's tail was unique and beautiful plus it didn't get in the way or knock things over so we have an affinity for bob tails. We jumped at the chance to import a breeding quality bob tail Entle and coincidentally Jaylah's tail mimics close to the look of a docked tail. We have had people argue with us that it is not natural but we are sure that it is!

At Excel-Entlebuchers our philosophy on the Entlebucher tail is: whether docked, left full, or a congenital bob tail~ it is a personal preference and legal in the United States. Any individual's decisions for their own dogs need to be respected. We have no tolerance for people who cannot articulate their thoughts in a dignified, kind way while recognizing others' rights.
NEMDA Entlebucher Breed Standard webpage
AKC Entlebucher Mountain Dog Breed Page
Swiss Club for Entlebucher Mountain Dogs
Swiss Club Entlebucher link to Breed Standard
Temperament
Entles are larger than life! Everything about them is more dramatic than what you will read! They need mental stimulation in addition to physical exercise to be content and well adjusted. Some say Entles are stubborn- I don't think so. Cattle dogs need to know when/if to defy a command that would put them or their charges in danger. Cattle are bigger and not as easily intimidated as sheep.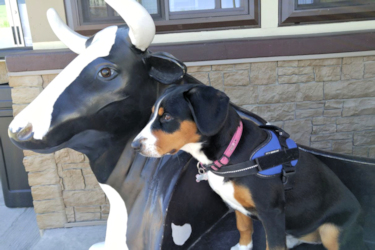 It takes "street smarts" to command them. Entles are clever, thinking dogs that want to work for their owners and please. They need a fair, consistent and strong leader or an Entle is willing to assume the role... because they can. Entlebuchers are not the best choice for first-time or inconsistent owners. Entles are observant and quickly pick up on patterns. Even when you do not think you are actively training an Entle, they are learning! That can be a blessing and a curse.
Entlebuchers are best suited for owners that understand the intelligence and unique characteristics of herding breeds. Every Entle I have ever met has been quick and eager to learn. They crave interaction and need to be close working companions, involved in all aspects of your life. If they can't be an important part of the family and get adequate daily exercise- it will show up in their behavior... from uncontrollable barking, jumping and displacement nipping to obsessive compulsive activities or inappropriate herding behaviors.
Entlebuchers get very attached to their families but are naturally suspicious of strangers. The breed standard describes them as aloof. This is true to a greater extent in some lines more than others. The most important job of an Entle puppy owner is socialization- early and often! That can not be emphasized enough! It must be top priority the first year plus, to consistently expose an Entle puppy to as many different types of people and situations as possible. The owner needs to be alert, aware, patient, and in control of all interactions to insure mostly positive, safe experiences. Never force interaction on an Entlebucher. The key is to give them the opportunity to interact then allow them to think it through, at their own pace. FYI, Giving strangers food can backfire with an Entle. Entles are very food motivated but if they cannot resist taking the food and do not feel comfortable with the person, you can set them up for failure. I have seen this method encourage an Entle to grab the food then nip at the person and run away barking because the dog was so conflicted. Entles cannot be bribed but many will not turn down food unless they are taught "leave it".

Socialization balances out an Entlebucher's aloof nature and teaches them how to handle themselves. They need to learn what is normal or not normal in different situations. Without proper socialization, as adults they can be reactive, spooky or always "on guard" for threats... in some cases even aggressive because they always feel threatened. With good breeding (nature) and proper socialization (nurture), adult Entles will become well adjusted, wonderful companions.

He Just Wants To Say "Hi!"- by Suzanne Clothier is an excellent, important article all dog owners need to read, share and discuss. Like people, dogs are individuals each with unique needs, likes and dislikes. Realistically, not every dog really wants or needs to be "social" with other dogs or people... and that is OK! Every dog should be a well socialized, canine good citizen to integrate appropriately in society. That does not mean that every dog enjoys or should be forced in to social activities, especially if the activities do not fit the dog's personality or temperament. Breed levels of congeniality are another consideration to think about when adding a dog to your family. To enjoy the best match, a dog's individuality should compliment the owner's or family's needs and lifestyle.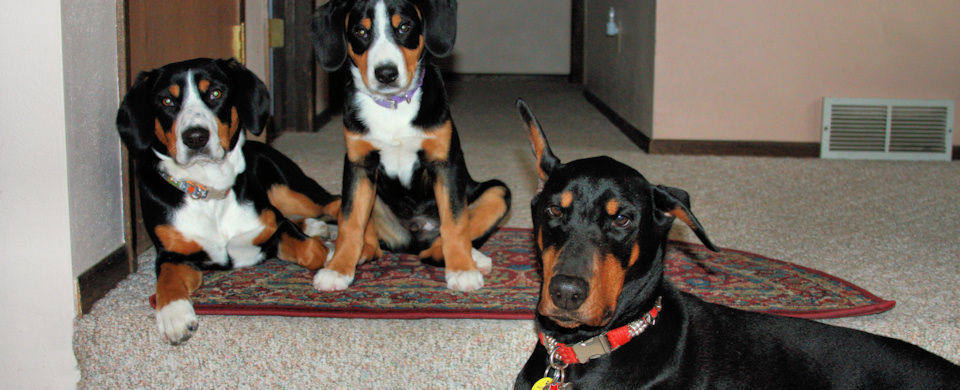 Dogs are not our whole life, but they make our lives whole - Roger Caras