Jaylah
Antea z Rodevachu CGC, TKI
Jaylah's message is to be brave, have courage, go "all in" and take risks. She reminds us every day how life is just one big, grand adventure to experience and make extraordinary! Jaylah lives by the motto: you gotta risk it to get the biscuit.
Jaylah
Surprise! This cutie patootie Czech Republic born Entlebucher puppy came to America to turn our world upside down!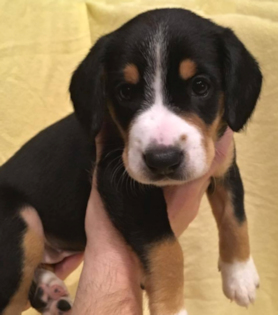 There is a small population of Entlebuchers in the United States. Add to that, the challenge of PRA compatible breeding matches plus spread out area with limited (but hopeful) success in fresh chilled/shipped breedings and the Entle really needs skillfully managed genetics if they are to have a robust future. Patrick and I are among a group of Entle enthusiasts that decided for the health and future of the breed we needed to start importing some diverse lines to integrate with our population. We were very excited for the opportunity to import a potential breeding quality female to help expand the genetic diversity. Again I did my research, comprehensively! I found a breeder that I admired and we hit it off. After her female's breeding took place we waited eagerly for our little girl to be born. She had a litter of all boys and would not be breeding again for quite a while. So we went to that breeder's breeder and established a wonderful friendship with hopes of our girl being born. This time, the breeding was not successful with a young, maiden female... but this breeder had 2 other females they would be breeding in another 6 months. We were content to wait for their "Q" and "R" litters with renewed optimism.

I summoned my courage and asked the breeder if they would consider breeding to a natural bob tail stud dog for us. The bob tail gene is dominant in Entles which means a bob tail can only present in a litter of puppies if one of the parents physically has a bob tail. There used to be natural bobs in the United States but it was not bred for or protected so the gene became extinct in North America. Genes are part of a greater genetic package which makes me wonder what other gene sequences and DNA combinations are connected to that trait and can potentially be lost. That breeder had already bred to the bob tail stud I had hoped for so it wasn't going to be possible for this upcoming breeding. It was disappointing but understandable. There are many old wives tales, misinformation, and a lot is still unknown about the bob tail gene. It has been studied very little in some breeds, but not at all in the Entlebucher. Now that the majority of the world has banned docking tails, natural bob tail dogs are again gaining in desirability and attention so hopefully more can be learned through scientific research and methodical study.

We had given up on the idea of getting a bob tail female. Then I came across the breeding announcement of a striking European Entle "A" litter pairing. I contacted the breeder to help network for friends who were also looking to import. The females from their litter would not work for my friends but they shared the litter information and pictures... I could not believe my eyes~ the pictures showed a beautiful natural bob tail female known as Antea.
Baby Antea z Rodevachu
I talked it over to Pat and we decided to tell the breeder we were very interested but needed her to be potential breeding quality and test as a PRA clear (Data is a carrier). Waiting the 6 weeks, when their club would allow the PRA test to be performed, was tough. We told ourselves not to fall in love with the photos, videos and updates the breeders sent and tried not to get our hopes too high and remain realistic. Pat and I agreed that if she tested as a carrier, it just was not meant to be. Finally the day came. I woke up to a magical text from Josef, "I think you'll be happy, check your email for her clear test results". That moment was surreal, it felt like a dream. When told Pat he immediately said, "it's meant to be, let's get our baby".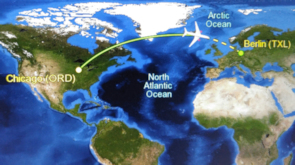 The timing wasn't ideal for a new puppy but life has taught me: you can plan the plan, but don't try to plan the outcome. We were driving to Florida for the AKC Agility Invitationals in a few weeks. Pat could not take anymore time off work plus a huge event likef that was no place for a baby too young to be vaccinated. We planned for a puppy 2017, not Dec 2016. Ironically we researched, worked, and hoped for 2 years but kept running into obstacles, welcoming Antea to our family fell into place almost effortlessly. I booked my flight ready for adventure~ Chicago to Prague with a short layover in Berlin and the reverse coming home. There was never a question that the only way we would import a puppy was if she could travel in cabin during the flight.
Luckily I already had a passport. This trip was very short notice and since the timing wasn't ideal, it had to be quick. I felt very comfortable in the Czech Republic and adored Prague. I would go back in a heartbeat to take in more of the sights, revel in the culture and taste more of the local flavors. The people were so wonderful everywhere I went. A FaceBook Entle and dog sport friend met me at the airport. We enjoyed a memorable day together that I will always cherish. What a special treat to be able to go almost everywhere doing everything with her Entles Bady and Berry. They even hung out with us while we ate at an indoor restaurant.
After our fun filled day, I rented a car and drove to the recommended hotel near to the breeder lives. We first met at the hotel. He took me to their home to meet their lovely family including our puppy's mom, sister and brother. We had the most engaging conversation and talked late into the night. Such wonderful hosts, they had delicious dessert for us to share while we talked and later filled out the puppy paperwork. They treated me with warmth and kindess welcoming us as part of their extended family. Now that we brought their little Antea into our life, we promised to stay in touch. They have a very fond place in my heart and we are forever grateful that they allowed us to give Antea a loving home in the U.S. and help her reach her potential for being healthy, happy, and living the best Entle life!
We had an easy, fun flight home. I wasn't sure what to expect on a 9 hour flight with a baby puppy. She took it all in stride and enjoyed the adventure of meeting new people and hanging out with me in her Sherpa bag. When we arrived back in the States, we were welcomed to the first big snowstorm of the Midwest winter. I would ordinarily hate it but everything is special through the eyes of a puppy! Watching her experience snow for the first time was magical and hilarious.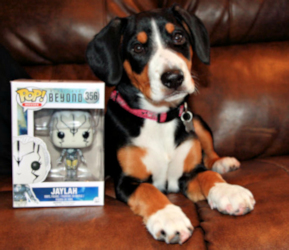 Our dogs are named after Star Trek characters. The movie Star Trek: Beyond came out in 2016. The mysterious, new alien Jaylah was undeniably a break out character! Jaylah provided a strong female lead with authenticity, great comedy presence, and a larger than life personality. Antea's breeder also proudly let us know that Antea meant "warrior princess" and by all indications she was true to that; the boldest puppy in the litter, first to climb out of the box and always ready to tackle new things, her siblings or anyone that wanted to play. Jaylah was the perfect name for little Antea. We had hoped her registered name could be Antea-Jaylah (+ Kennel) but a miscommunication and misunderstanding of the AKC Foreign Registration procedure prevented that. It really is not a problem for us, we know how coincidences and the signs all tie together, including that the in-flight movie playing during my trip abroad was... Star Trek: Beyond.

Jaylah is bold, spirited, and mentally tough~ nothing seems to faze her. She is athletic, drivey, intense, busy and ever riding the edge of reckless (so simiar to our 1st Entle, it's spooky). Jaylah is the most outgoing, friendly Entlebucher I have ever seen. She has no desire to follow the standard to be aloof, actually she thought it read a goof and certainly Jaylah can be a silly, carefree, clown.
Registered Name:
Antea z Rodevachu CGC, TKI
Jaylah's Knicknames:
J, JJ, "Good Times", Monkey, Devil Chewer, Kra-Kra JJ, Checkers
Jaylah's Breeders- Rodevachu Kennel
Rodevachu: Mgr. Martina Smetanova & Josef Smetana
CH Amor Von Semberweiden- Jaylah's Sire
Jaylah- You Tube Video Links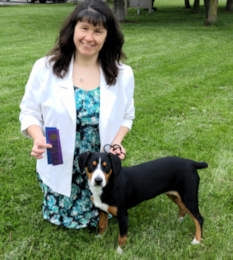 Jaylah is making her Czech mark known in our lives already. Being active, smart, and busy she has been a challenge to keep stimulated and entertained enough so that she does not invent her own trouble. We have tried to do some type of purposeful outing almost every day since she came home. From 10 weeks on, she has played with interactive puzzle toys and has had the opportunity to enjoy safe puppy exercise like walks in the woods or play dates with similar age puppies and suitable adult dogs. Seeing the early writing on the wall for a future of reckless behavior and little regard for her own body, we have also incorporated proprioception, body, and conditioning work with FitPaws equipment as well as teaching tricks for fun and body awareness! Jaylah has embraced it all and wants more! We have also dedicated much on-going time teaching her: "settle", relax, and impulse control. No dog should live in a state of high energy and high drive, we believe they need to learn how to turn it off too. But at this point we are not sure if we are helping to create this... or just allowing the right conditions to encourage this monster.
• Jaylah earned her first conformation point in her debut show May 20, 2017 at OKC in Oshkosh, WI
• Jaylah earned her Canine Good Citizen Certificate(CGC) June 18, 2017 at just under 9 months old.
• Jaylah earned her AKC Novice and Intermediate Trick Dog titles (TKN & TKI) June 24, 2017 at just under 9 months old.

We are having a blast with this crazy baby and I have a feeling we are in for another wild ride!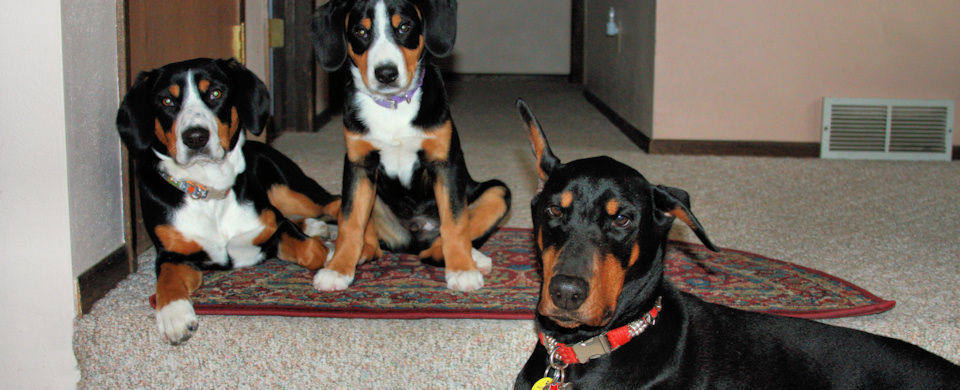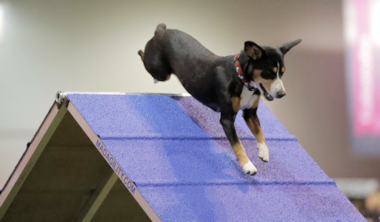 Dogs are not our whole life, but they make our lives whole - Roger Caras