Data
BISS GCH CH MACH3 Imzadi Data v. Eagleheart CGC VCD2 BN GN RE MXB2 MJB2 MXF T2B TKA SIN SCN
Data is showing me how love lives on... that those we love do stay with us; they become part of us living in our hearts, minds and souls continuing to shine and give us strength.
Data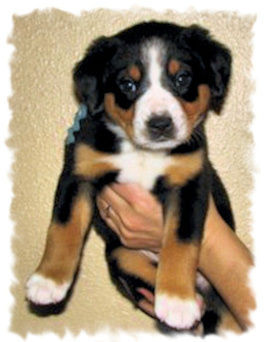 We waited almost 2 years for Data and truth be known, we would have waited however long it took to get another Entlebucher from Eagleheart! One thing I admire about Eagleheart as breeders is that they care deeply about temperament and preserving the Entle as a true working dog. They won't compromise on those traits. They also communicate frequently sending lots of pictures and videos. Eagleheart takes pride in sharing their enthusiasm, joy and really letting you in to their experience as breeders which adds to the enjoyment.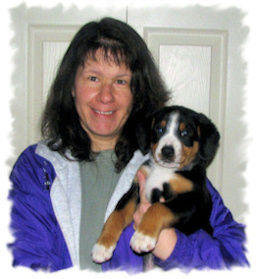 Data is Bayla's great nephew. He was from a litter of 8. From the pictures they sent, I did not think he was any cuter than the other puppies or feel any special connection to him. His brother reminded me more of Bayla so I felt drawn to him. But once I met Data, his personality and attitude quickly won me over. I always fall for the mischief makers... Data is just about everything I wanted or could have hoped for!

With Data's litter, I had the incredible opportunity to experience first-hand a litter evaluation with Pat Hastings at her place in Oregon. WOW!! That was so special; I will always cherish that experience! Pat is truly amazing! I've learned so much from her seminars and books yet being there for a litter eval was even more personal and intimate. Her tips and insight were invaluable; that knowledge will help me make better decisions for Data throughout his life.
Shortly after bringing Data home, we were able to start the new session of Susan Garrett's Recallers 2 class and take a local puppy class with Ellen Hardin. We committed ourselves to socializing and teaching games that offered life skills and would be useful in future competition sports. April 2011 we started formal conformation classes. Both being new to the sport and with no expectations, we entered our first AKC Conformation show May 2011. What an unexpected thrill and priceless memory to go Best in Breed that first weekend out! July 2011 we started foundation agility with Beth Knotts of Raising the Bar Dog Training. We are also training informally in tracking and rally obedience. In 2012 we began training in traditional obedience locally with Ellen. I also discovered how enjoyable and productive online training classes can be. I like Denise Fenzi for her wonderful and effective teaching and demo style. Check out her classes at Fenzi Dog Sports Academy.

Registered Name:
BISS GCH CH MACH3 Imzadi Data v. Eagleheart CGC VCD2 BN GN RE MXB2 MJB2 MXF T2B TKA SIN SCN
Data's Knicknames:
Duders, Dude-Boy, Mister Data, Commander Data, buddy
• Many US Entle breeders follow European traditions, naming their litters alphabetically.
Data was from an "I" litter, so his registered name needed to start with "I". Being a true Star Trek Geek... while watching the premiere episode of Next Generation it hit me that
his "I" name could only be ~ Imzadi ~ How perfect!
* Photo: Legacy Studios
Data- You Tube Video Links
Mr. Data vs Mr. Toad ; Data learns to swim
AKC Rally: Rally Novice 'RN' Title ; Rally Excellent 'RE' Title
AKC Obedience: Beginner Novice ; Novice Obedience 'CD' Title ; Graduate Novice ; Graduate Novice
AKC Agility: Novice Debut ; Novice JWW Title ; Open JWW Debut ; Masters Std- MX leg #2 (just 23 months old) ; MX Title
Double Q #2 ; Double Q #4 & MXJ Title ; Masters JWW Title ; Double Q #7 ; Double Q #11 ; Double Q #14
QQ #20 = MACH ; QQ#24 ; QQ #27 ; 2014 Invitationals ; Master JWW #57 ; 2015 Invitational Runs ; QQ#44
MACH3 Runs: QQ#60 Master Std; Master JWW
One of My Favorite Runs
Data was a wonderful, almost perfect puppy! He is sensitive and very thoughtful- you can see his wheels turning constantly. He is adventurous and curious; loves to explore and is eager to learn. Data is often the instigator of mischief in our household and he just loves to be the center of attention. He is sure the world revolves around him... that all people were put here for his entertainment and all drive-thru's should give him something. Data is Mr. Personality..., confident and fond of himself! He can be more aloof with male dogs but loves the females turning into quite the flirt! Data is very outgoing, friendly, social and interactive with people, especially children of all ages- more so than most Entlebuchers you will ever meet.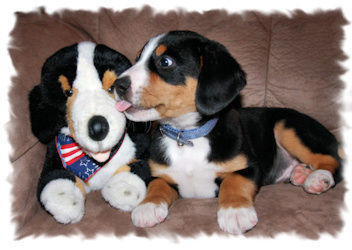 Data has a contagious zest for life! He enjoys playing fetch, rough housing, wrestling and tugging... he doesn't seem to understand what a solid "tank" he really is! Data continually teaches me to slow down, appreciate the journey and enjoy the rewards of patience. I've had so much fun hanging back to watch how he approaches and conquers challenges. Cattle dogs are thinkers, happiest when they have a mental challenge. I plan to expose Data to many different dog sports and would love for him to follow Bayla's pawsteps to become a therapy dog as well. Data has passed above and beyond his breeding health testing requirements. As a stud dog, we are extremely happy and encouraged by the structural qualities, temperament, and traits we have observed that he is passing on contributing to his kids.
Data's Major Accomplishments:
• Data earned his AKC Rally Novice title (RN) October 15, 2011 going 3/3 with all placements at 11 months old!
• Data finished his AKC Conformation Championship title (CH) October 23, 2011 in Springfield, Illinois.
-- He earned his CH in just 5 shows (10 total days of showing), under 6 different judges at 11 months old!
-- Data is the 13th Entlebucher Mountain Dog to earn an AKC Conformation Championship.
* Entlebuchers became eligible for AKC Conformation with their AKC recognition January 1, 2011.
• Data earned Best Opposite in Puppy Sweepstakes under Judge Bill Edwards at the 2011 Entlebucher National Specialty.
• Data debuted in AKC Agility April 28, 2012. He earned his 1st Agility title in his 2nd trial at just 18 months old!
• Data earned his AKC Novice Obedience Companion Dog (CD) title March 17, 2013; 3 for 3 with 2/3 placements.
• Data earned his AKC Master Agility Championship (MACH) title April 19, 2014 at Think Pawsitive.
-- He earned his MACH at 3 years & 5 months old; just under 2 years from the beginning of his agility career!
-- Data is the 2nd Entlebucher to earn an AKC Agility Championship.
• Data earned his 2nd AKC Master Agility Championship (MACH2) title March 12, 2016 at Camp Bandy.
• Data earned his 3rd AKC Master Agility Championship (MACH3) title March 17, 2018 in Louisville, KY.
-- Data is the 1st Entlebucher to earn an AKC MACH3 title.
• Data WON Best of Breed under judge Carolyn Herbel at the 2014 Entlebucher National Specialty!
-- Data is currently the only multi-sport dual Champion in the Entlebucher breed!
• Data is the 1st Entle to earn an AKC Tracking Dog (TD) title May 10, 2017 at Hartman Creek State Park
-- Data is also the 1st Entle to earn the coveted AKC Versatile Companion Dog (VCD1) title Designation
• Data has earned multiple Conformation Herding Group and Owner-Handler Herding Group Placements under judges: Carmen Battaglia, Roger Hartinger, James Moses, Robert Frost, John Wade, Joyce Siddall, and Dale Meyer. It has been an honor and great thrill considering that we only show in conformation sporadically favoring performance sports!
• Data earned his AKC Agility Excellent title (AX) September 15, 2012 at only 22 months old!
• Data earned his Grand Championship at the Kenosha Kennel Club All-Breed show September 10, 2017
• Data went 6/6 in his debut AKC Scent Work trial and earned his Scent Work Containers (SCN) & Scent Work Interior (SIN) Novice titles November 18, 2018
• Data earned his AKC Open Obedience Companion Dog Excellent (CDX) title February 3, 2019
-- Data has the distinction of being the 1st Entle to achieve the AKC Versatile Companion Dog 2 (VCD2) title Designation
• Data was honored being chosen to represent the breed as the major photo featured Entlebucher Mountain Dog in the prestigious resource book: Barron's Encyclopedia of Dog Breeds by D. Caroline Coile, Ph.D (3rd edition, pg. 360)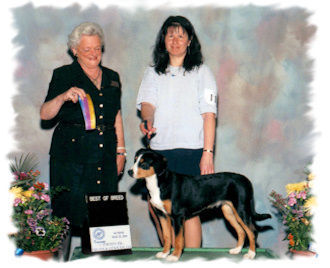 Any feedback or compliments Data has received while showing in conformation have been very consistent to the evaluation Pat Hastings gave us when he was 8 weeks old! Pat even told us that "with his positive attributes, Data will be fairly easy to finish." That was very lucky for me since he's the first dog I have ever shown in Conformation and I do not show often. I am very grateful to Carlin Rasmussen for being my mentor, friend and whipping me into shape as an owner/handler, so we even had a shot at achieving above and beyond our goals! I wanted to experience Conformation showing first-hand plus another Entlebucher owner dared me to step outside my comfort zone to show him myself without using a professional handler/s... I am so glad I embraced the challenge, Data has been 100% Owner-Handled! I know my fairy tale experience with Data has spoiled me for the Conformation ring in the future! But we're just getting started... As a team, we have a bright future together.
* AKC Judge: Mrs. Lydia Coleman-Hutchinson,
Joyce & Data (6 mo.)- BOB May 22, 2011
Data's Stats
DOB: 11/11/10
Height: 19" Weight: 54 lbs.
AKC#: DN29986901
Optigen- prcd Carrier
OFA Hips EB-244F24M-VPI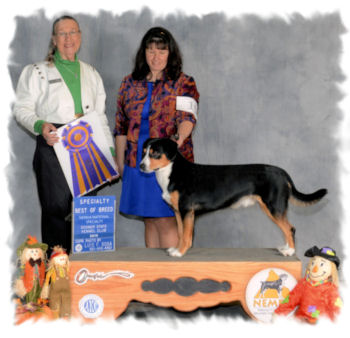 OFA Elbows EB-EL68M24-VPI
OFA Patellas EB-PA10/46M/P-VPI
OFA Heart EB-CA5/46M/C-VPI-ECHO
OFA Eyes ECR EB-EYE1/95M-VPI
Gonioscopy 0-N
CHIC#: 133940

We have done additional health testing beyond the minimums stated by the AKC parent breed club because we believe it is in the best interest of the breed and matters to the future health of the Entlebucher. Data has an exceptional temperament- he is outgoing, friendly, and loves to be the center of attention! Data has a strong work ethic, is eager to please and easily rewarded with toys, food, or praise. He is focussed, intense and driven while working, yet easy to live with for his medium energy, "off" button, thoughtfulness and emotional stability. Data has solid bone and a moderate athletic build with balanced, sound structure.

* AKC Judge: Carolyn Herbel,
Joyce & Data (4 yr.)- BISS October 11, 2014
Data has sired 5 successful litters with 27 puppies.
To inquire about stud service please contact me.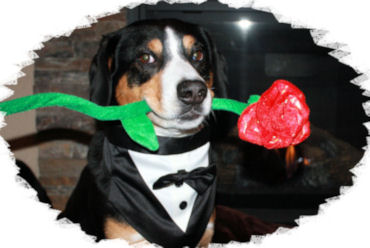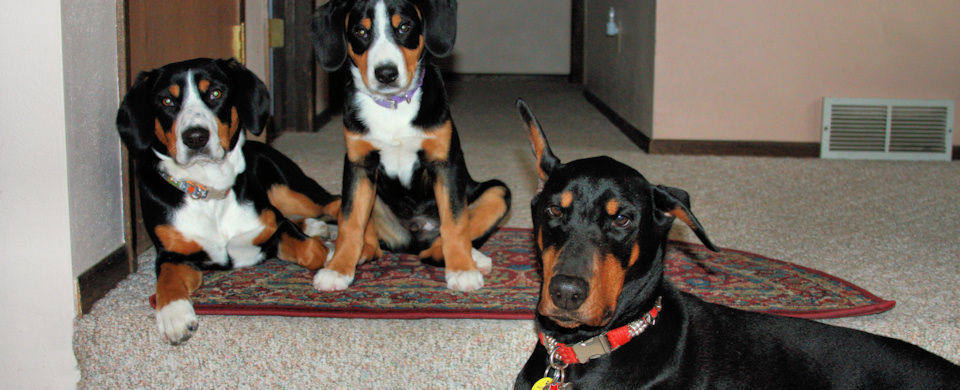 Dogs are not our whole life, but they make our lives whole - Roger Caras